PRODUCT INFO
Rowdy Brochure

(3.8 MB)

Rowdy Price List

(129.0 KB)

Rowdy Plastics Program

(102.8 KB)

Environmental Data Sheet

(20.3 KB)

Project Spotlight: Gateway One Lending & Financial

(664.2 KB)

Project Spotlight: Harmons

(412.2 KB)

Rowdy AutoCad 2D Files

(62.2 KB)

Rowdy AutoCad 3D Files

(2.0 MB)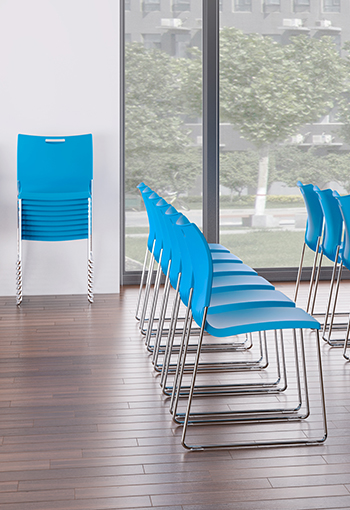 A STACKABLE CHAIR WITH A WILD SIDE
Our most affordable chair, Rowdy features a smart handle design, a one-piece shell for easy cleaning and maximum stackability - up to 40 on a cart! Designed by Dorsey Cox with a ribbed back for support, Rowdy is a great value for meeting rooms or lunch areas.

14 plastic colors

Built-in pull handle

Wire frame construction

Black or chrome frame

Plastic armless model stack 15 on the floor, 40 on the optional cart

Plastic arm model stack 10 on the floor, 25 on the optional cart
CAL 133 approved models
250 lb. weight capacity
Lifetime Warranty

1,000's of textiles ship in 2, 5 or 10 days
Materials
14 versatile plastic colors
Arms/Casters/Frame Finishes
Arms or armless
Glides
Black or chrome frame finish
Additional Options
Ganging bracket
Stacking cart
Dorsey Cox
Dorsey Cox has over 20 years of experience in industrial design with many successful innovations from consumer to office. With a Bachelor of Industrial Design from Auburn University he started his career as a furniture designer in 1987 and founded dorseycoxdesign in 2002. He developed Rowdy for SitOnIt in 2004 and the Relay chair in 2006. Raised in a family of manufacturers, he developed a keen understanding of materials and processes. Dorsey believes that life is simplified by good design.