Product Info
Rio Brochure

(3.1 MB)

Rio Price List

(463.3 KB)

Plastics Program

(102.8 KB)

Rio Guest Environmental Data Sheet

(68.9 KB)

Rio Stool Environmental Data Sheet

(68.8 KB)

Rio Sell Sheet

(326.4 KB)

Feature Spotlight: Lumin & Rio Tablets

(734.4 KB)

Feature Spotlight: ARC Tech

(704.1 KB)

New Rio AutoCAD 2D Files

(188.1 KB)

New Rio AutoCAD 3D Files

(7.1 MB)

New Rio Revit Files

(57.6 MB)

New Rio SketchUp Files

(20.1 MB)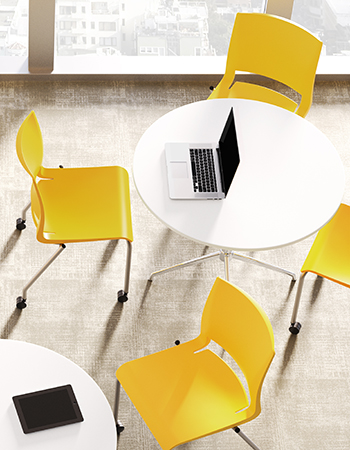 New Rio multipurpose chairs, lemon shell
Redesigned—and better than ever.
Discover a brand new line of models reengineered for maximum comfort, flexibility and versatility.
Reengineered for even more support and comfort
Enhanced ARC Technology® for improved, weight-assisted flex
Adjusted clean-out space to accommodate new wire frame base option
Easy-grip edge that acts as pull handle
Plastic model 4-leg stacks 4 on the floor; 8 on the optional cart
Plastic wire rod model stacks 6 on the floor; 15 on the optional cart
Left or right folding tablet arm in 2 finishes
14 plastic shell colors
Fully upholstered, upholstered seat or plastic
All models come in 2 frame finishes with matching arm pads
300 lbs. weight capacity
Lifetime Warranty
All options and 1,000s of textiles ship in 2, 5 or 10 days
Plastic Colors - 2 Day
These colors require a 2 day lead time.
Plastic Colors - 3 Week
These colors require a 3 week lead time.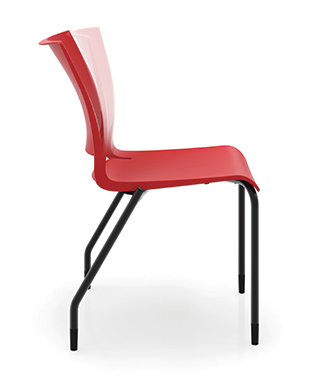 ARC Technology®
The single piece polymer shell features SitOnIt Seating ARC Technology® (Active Rebound Control). A unique insert enables the chair to flex based on the amount of weight pressed against it (weight assisted recline).
The flexor insert – hidden inside the back base – is made from polyoxymethylene (POM). POM is an engineering thermoplastic used in precision parts requiring high stiffness, low friction and excellent dimensional stability. The material is widely used in the automotive and consumer electronics industry. The flexor is securely bolted to the seat frame to endure punishing daily use, yet return to its original shape without fail.