PRODUCT INFO
Focus Side Brochure

(2.2 MB)

Focus Side Price List

(462.9 KB)

Focus Side Mesh Program

(219.5 KB)

Environmental Data Sheets

(46.7 KB)

Focus Side Sell Sheet

(736.4 KB)

Project Spotlight: Cadillac

(395.8 KB)

Feature Spotlight: Focus Side Mesh Colors

(836.0 KB)

Feature Spotlight: Stools

(1.1 MB)

Focus Side AutoCad 2D Files

(736.5 KB)

Focus Side AutoCad 3D Files

(7.3 MB)

Focus Side Revit Files

(12.5 MB)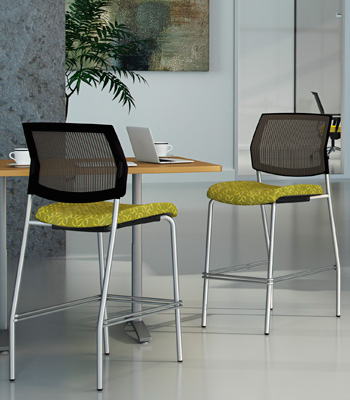 Focus Side bar stool, onyx mesh, silver frame

Mix and Match
The revitalized Focus Side combines comfort and design for multi-purpose, office, or reception areas. Choose either the 4-leg side chair, bar or counter stools in three back options – mesh, upholstered and wood. Two different frame finishes permit it to blend in – or stand out. Focus Side is part of a broad and versatile collection that includes executive and task models. Designed to complement Focus Executive, Focus Work and Amplify task chairs.
4-leg side chair, 30" bar and 24" counter stool models
3 back options: mesh, wood and fully upholstered

15 bleach cleanable mesh back colors
2 wood back styles and 4 wood stain finishes
Black or silver frame accents
Waterfall seat

Mesh back model stacks 4 on the floor, 5 on the optional cart; upholstered back model stacks 3 on the floor, 3 on the optional cart

Lifetime Warranty on all structural components
300 pound weight capacity
1000's of textiles ship in 2, 5 or 10 days
Five Standard Mesh Colors
The same mesh textiles that made Focus Side so cool.

Ten Amplify Mesh Colors
The Focus Side is available in the same vibrant mesh colors as Amplify, making it the perfect complement to the Amplify task chair.

Radar Design
Roger Carr and David Williams of Radar Design, London used informed innovation to bring the extraordinary look and ergonomics of mesh design to their delightful improvement on the guest chair. A complement to any task seating, including our Focus Work chair, the versatile Focus Side offers versatility for a range of applications.