PRODUCT INFO
Relay Brochure

(2.2 MB)

Relay Price List

(745.6 KB)

Plastics Program

(102.8 KB)

Relay Mech Adjustments

(85.6 KB)

Environmental Data Sheets

(38.2 KB)

Collaboration Solutions Brochure

(3.3 MB)

Relay AutoCad 2D Files

(65.8 KB)

Relay AutoCad 3D Files

(2.4 MB)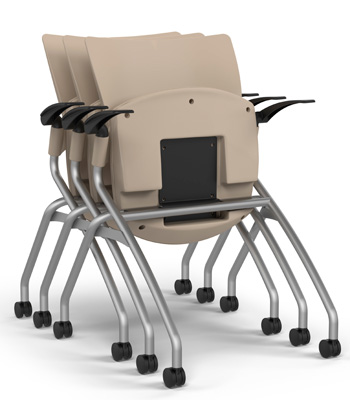 Relay nesting chairs, bisque shell

Stack Away or Nest Assured
Designed by Dorsey Cox for extra comfort and quick transitions, the Relay chair comes in stacking and nesting models for high-volume storage. With a durability, spacious sit and ribbed back support, the Relay chair brings practical solutions to meeting spaces.

Task chair, task stool, side chair and multipurpose nester

Structurally reinforced and durable back

High-impact polypropylene
Arm and armless styles stack 5 on the floor and 5 on the optional cart or nest 17 chairs in 10ft. of space
Fully upholstered, upholstered seat or plastic
9 plastic colors
Nesting arm and armless styles
Black or silver frame

CAL 133 approved models
250 lb. weight capacity
Lifetime Warranty

1,000's of textiles ship in 2, 5 or 10 days
FRAME TYPE
Nesting chair

4-leg chair
Task chair
Task stool
Extended task stool
MECHANISMS
TASK CHAIR
Choice of basic or swivel tilt
MATERIALS
9 versatile plastic colors
Thousands of textile choices
ARMS/CASTERS/FRAME FINISHES
Arms or armless
Casters
Black or silver frame finish
ADITIONAL OPTIONS
STACKING & NESTING CHAIR
Dorsey Cox
Dorsey Cox has over 20 years of experience in industrial design with many successful innovations from consumer to office. With a Bachelor of Industrial Design from Auburn University he started his career as a furniture designer in 1987 and founded dorseycoxdesign in 2002. He developed Rowdy for SitOnIt in 2004 and the Relay chair in 2006. Raised in a family of manufacturers, he developed a keen understanding of materials and processes. Dorsey believes that life is simplified by good design.