PRODUCT INFO
Anytime Brochure

(3.3 MB)

Anytime Price List

(545.6 KB)

Anytime Plastics Program

(102.8 KB)

Environmental Data Sheet

(38.4 KB)

Project Spotlight: Penn State

(420.7 KB)

Feature Spotlight: Tablet Arms

(1.9 MB)

Anytime AutoCad 2D Files

(72.2 KB)

Anytime AutoCad 3D Files

(2.8 MB)

Anytime Armless AutoCad 2D Files

(1.8 MB)

Anytime Revit Files

(19.2 MB)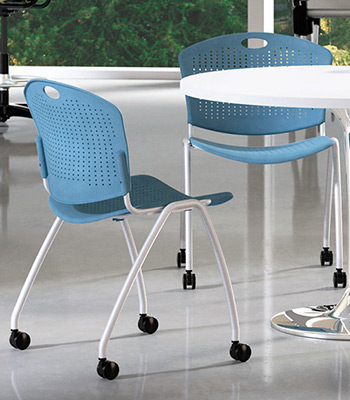 Anytime multipurpose chairs, lagoon shell

Anywhere Seating - Anytime
One of our lightest chairs, Anytime boasts a wide contoured seat, perforated back for a cool sit and even a built-in handle. Also as a bar stool, Anytime means serious grab-and-go versatility for quick collaboration, pull-up lunches or inclusive conferencing in corporate, healthcare or educational settings.
Side chair, task chair, task stool and 30" bar stool
Fully upholstered, upholstered seat only
9 plastic colors
Perforated shell provides ventilation
Built-in pull handle
Black or silver tubular frame
Stacks 6 on the floor, 8 on the optional cart

CAL 133 approved models
250 lb. weight capacity
Lifetime Warranty
1,000's of textiles ship in 2, 5 or 10 days

Materials
19 versatile plastic colors
Thousands of textile choices
Arms/Casters/Frame Finishes
Arms or armless
Right or left tablet arms
Glides or casters
Black or silver frame finish
Additional Options
Ganging bracket
Stacking cart
Richard Douglas Rose
After receiving a BFA in furniture design from the Rochester Institute of Technology and working in the contract furniture industry (where he listened to end users and learned about real-world manufacturing), Richard Douglas Rose established Richard Douglas Design. A product design specialist, Richard focuses on solutions for the office furniture industry. He draws from a diverse set of interests including all things mechanical (especially aviation), extreme sports, travel, art, architecture and ergonomics to form the foundation of his design principles: performance, practicality, value, and aesthetics. With over 50 individual seating items in production, Richard remarks, "I am extremely grateful and gratified that my work has been so rapidly accepted by the industry." Richard Douglas Design is based in Bucks County, Pennsylvania.