PRODUCT INFO
OnCall Brochure

(356.7 KB)

OnCall Price List

(302.5 KB)

OnCall Plastics Program

(102.8 KB)

OnCall Mech Adjustments

(85.6 KB)

Environmental Data Sheets

(38.2 KB)

OnCall Task Chair Sell Sheet

(909.3 KB)

Project Spotlight: Associa

(192.2 KB)

OnCall AutoCad 2D Files

(611.8 KB)

OnCall AutoCad 3D Files

(6.7 MB)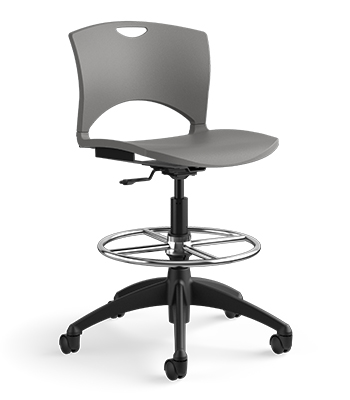 OnCall task stool, slate shell
Work with Value
Perfect for collaboration spaces, the lightweight OnCall task chair and stool feature the collection's signature built-in crescent handle and back cut-out. Mix and match with fabrics from our vast collection for the seat, back or both to create an affordable addition to creative workstations or any impromptu meeting.
Task chair and task stool

Fully upholstered, upholstered seat or plastic

9 plastic colors

Built-in pull handle
CAL 133 approved models
250 lb. weight capacity
Lifetime Warranty

1,000's of textiles ship in 2, 5 or 10 days

Mechanisms
CHAIR

Choice of basic and swivel tilt
STOOL
All stools come with basic mechanism
For instructional videos on mechanisms, see the Adjustments tab.
Materials
9 versatile plastic colors
Thousands of textile choices
Arms Options
Fixed task arms or armless