PRODUCT INFO
Knack Brochure

(7.1 MB)

Knack Price List

(483.4 KB)

Mech Adjustments

(599.9 KB)

Standard Synchro Mech Adjustments

(424.4 KB)

Environmental Data Sheets

(20.1 KB)

Feature Spotlight: Knack

(1.4 MB)

Knack AutoCad 2D Files

(60.3 KB)

Knack AutoCad 3D Files

(2.2 MB)

Knack Revit Files

(15.0 MB)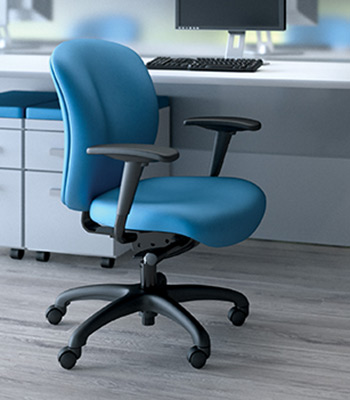 Knack task chair, SitOnIt Seating Pop Electric Blue

No-Nonsense Tasking
The Knack light task chair and stool boast an uncluttered transitional design, making it a perfect fit for offices and workstations in education, healthcare and government.

Durable and ergonomic

5 control mechanisms for comfort and support

Back height adjustment

Ballistic nylon back optional

Black or brushed aluminum base

Waterfall seat
CAL 133 approved models
300 lb. weight capacity; 350 lbs. on Heavy Duty 24/7 option

Lifetime Warranty

1,000's of textiles ship in 2, 5 or 10 days
Mechanisms
CHAIR

Choice of basic, swivel tilt, standard synchro, enhanced synchro or multi-function
Seat depth adjustment
STOOL
All stools come with basic mechanism
For instructional videos on mechanisms, see the Adjustments tab.
Materials
Thousands of textile choices
Ballistic nylon upholstery
Arms/Casters/Frame Finishes
3 arm styles include loop and height/width adjustable
Black or brushed aluminum base
Additional Options
CHAIR
Heavy duty 24/7 option warranted to 350 lbs.