PRODUCT INFO
Focus Collection Brochure

(2.0 MB)

Focus Executive Price List

(156.8 KB)

Focus Mesh Program

(1.4 MB)

Focus Executive Mech Adjustments

(231.3 KB)

Environtmental Data Sheets

(46.7 KB)

Feature Spotlight: Focus

(1.4 MB)

Focus Executive AutoCad 2D Files

(174.7 KB)

Focus Executive AutoCad 3D Files

(2.0 MB)

Focus Executive Revit Files

(10.6 MB)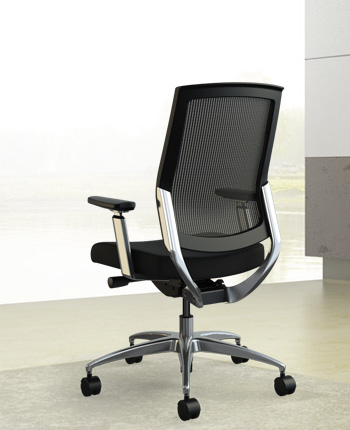 Focus Executive, Black Mesh, Spinneybeck Volo black.

Ergonomics for Executives
Built for ergonomic excellence, the Focus Executive chair features the Focus collection's signature sculpted back with integrated lumbar support for outstanding comfort. Exposed aluminum accents speak to the power of its engineering. Part of the top-selling Focus collection of executive, conference, task and side seating.

Bleach cleanable mesh or upholstered pad back
Mesh or upholstered pad back

Standard pivot arm pads

Enhanced synchro tilt mechanism
Polished aluminum base
Adjustable lumbar option

Waterfall seat
CAL 133 approved models
300 pound weight capacity
Lifetime Warranty

1,000's of textiles ship in 2, 5 or 10 days
Mechanisms
Enhanced synchro control
Seat depth adjustment
Adjustable lumbar support (factory-installed or kit)
For instructional videos on mechanisms, see the Adjustments tab.

Arms/Casters/Frame Finishes
2 arm styles: height adjustable with pivot & height/width adjustable with pivot